Confessions of shoegazers, who didn't gaze at their shoes...(CHICANE story Part1)
What goes around, comes around.
Thanks to a couple of recent interviews for various radio stations and press, there has been a bit of interest thrown my way regarding CHICANE.

For those not in the know, I was a guitarist in 'said group and all it's variations between 1988 and 1996 (ish). No, we weren't the guy who made chilled-out Ibiza noodlings...Yes, we were a damn site more interesting and if 'Rock & Roll Family Trees' were still all the rage, you'd actually find that we were an early incarnation of The Darkness (more on that later).....


A potted history then:

I first remember seeing them as Fallen Heroes around 1985. They were pretty edgy to be honest. Think New Order without the synths or a wierd hybrid of early U2 and The Chameleons. I'd known Alex Comyn (singer/guitarist) and Jon Morley (bass) since school and was dragged along by a mutual friend to see them play at the Kentish Town Bull & Gate. They were a good draw. It was a good gig. A name and line-up change (Steve Sargent - drums) or two later and they were then known as World Of Music. To this day I still consider it the worst name for a group ever... but they were a much tighter outfit and the demos they had done were pretty impressive.
During this time ('86) I had formed a band called the Reptile House. Conceived at Middlesex Polytechnic under a heavy influence of Doors, Jesus and Mary Chain, Smiths and Echo & The Bunnymen, we made a few demo's and played one gig (captured on film) at St Martins in the Fields.

Anyway, the inevitable happened around 1988 and Alex invited me into World Of Music.
What followed was roughly a year of rehearsing, recording demos and playing gigs between Kentish Town and Brighton. In 1989 one of our tracks "Stop Playing With My Heart", made it onto a free 7" EP with the House Of Dolls magazine. Interesting line-up on that piece of vinyl. Pretty sure the Sandkings and the Wonderstuff made names for themselves...

MP3 World Of Music "Stop Playing With My Heart" (From the House Of Dolls EP)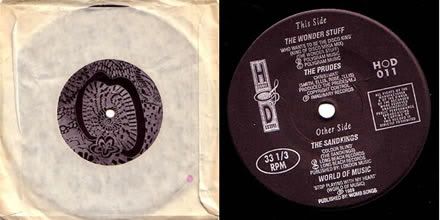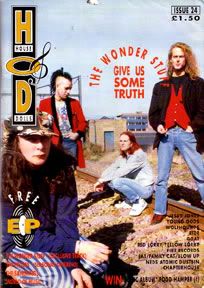 World Of Music local press interview
At the height of 'baggy' we ended up appearing on Gary Crowley's 'Demo Clash' on his GLR radio show, with a track called "Leper". Up against Sinister Groove from Manchester who sounded very er.......Manchester.
Anyway, have a listen to this edit of the show. When it came to the point where Crowley had to play our track, some studio mishap occured and..................hear it for yourself:


MP3

World Of Music on Gary Crowley's Demo Clash GLR 1990

Shortly after we managed to get a couple of support slots in Nottingham (Trent Poly) and London (Tufnell Park Boston Arms) with Energy Orchard, who were the big new things for a week or two but to be honest we needed to shake things up a bit more............



......moody bastards!

1991 so CHICANE was the new name. We began writing and rehearsing a completely new batch of songs, intent upon getting some sort of success out of it all...
After setting up our own label (Faith Records) we released our first single "Inflammable EP" in September. 12" vinyl only with 'Inflammable', 'When The Truth Hits Home' and 'Asphalt Eyes'.

MP3 Chicane "Inflammable" (From the Inflammable EP)





Lead track "Inflammable" soon received healthy airplay on Radio1 thanks to John Peel (who also played the other 2 tracks), Mark Goodier and Mark Radcliffe's 'Out On Blue Six' show. Gary Crowley and Tommy Vance gave it good airspace on GLR and there was a fair amount of regional play too.

MP3 Inflammable on Mark Goodier's Evening Session Radio1 1991
MP3 Inflammable on Gary Crowley GLR 1991
MP3 Inflammable on Mark Radcliffe's 'Out On Blue Six' Radio1 1991

NME and Melody Maker press soon appeared alongside decent reviews in Time Out and Rage magazine.
All in all a good start. Loads of gigs around this time.



Melody Maker live review

Melody Maker Interview
NME Interview
Rage Magazine single of the week
NME live review
Around this time the NME started dumping us in with the so-called 'Shoegazers', including a My Bloody Valentine feature.
More NME 'shoegazing' titbits

In November 1991 "Inflammable" was quickly followed by "Strength Of The Sun", a second 12" EP featuring lead track "Sunrising" alongside "Meet Michael", "The Things We Do" and "From A Garden".

MP3 Chicane "Sunrising" (From the Strength Of The Sun EP)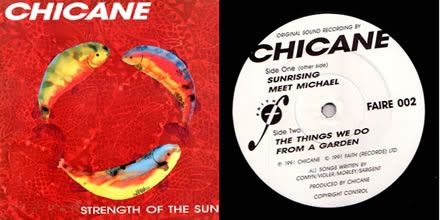 Melody Maker news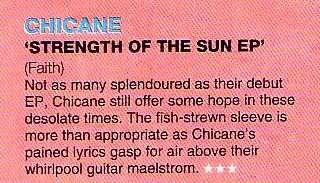 Rage mag singles review
Reviews were hit and miss for this EP but the lead track lacked the bite of 'Inflammable' and airplay
was minimal.



....twat.


Siren mag review

However, getting more high-profile gigs was a bit easier and some choice support slots came our way as 1991 turned into 1992, most notably with Spiritualized, Catherine Wheel, Half Japanese, Spitfire and a double-headliner with Senser at the Marquee in Charing Cross Road.


Channel 4 Teletext Review of the Senser Gig

.....Radio who?

Around this time CHICANE signed a development deal with BMG. ( I seem to remember after the signing that we blew most of the advance in a Chinese restaurant down the Kings Road hmmmmm). They sent us into the studio to record a third EP with Nigel Gilroy who had recently produced Flowered Up amongst others. The final sessions were mixed by Guy Fixsen who had engineered My Bloody Valentines "Loveless" and worked with most of the 'shoegazing' bands at the time. The results made up the third single "Wanderlust" that was released in May 1992 on both 12" and 4-track CD.

MP3 Chicane "Wanderlust"



NME single review.

Kentish Town, Bull & Gate (Hype Club) 30.5.1992 (Photograph Mick Mercer)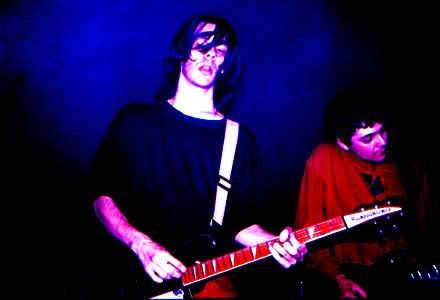 Letters page in the NME circa '92...

Next up was a compilation CD of all the EP's plus a couple of World Of Music era recordings, including the track "Leper" which was used in the Gary Crowley 'Demo Clash' in 1990.
"Firebombs" was released in the summer of 1992.
More of a promotional device than a proper 'album' as such but it sold well and received interesting reviews from Time Out, Select, NME, Melody Maker etc.

MP3 Chicane "Leper" (From the album Firebombs)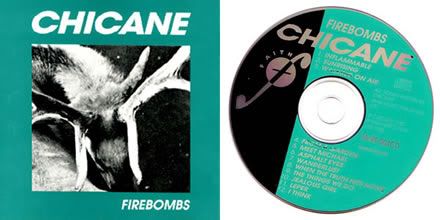 Select mag album review

Melody Maker 'Firebombs' review
Some magazine review of 'Firebombs'...

NME 'Firebombs' review
Time Out 'Firebombs' review

After developing a new harsh sound due to doing so many gigs, we set about recording 3 new tracks for BMG. The rusulting "Cut", "Elevator" and "Follow Through" indeed had lots of edge but didn't convince them...tsk.
And this is pretty much where my memory starts to fade.......
We did a radio session for BBC Leeds then prior to a gig at the Mean Fiddler, Steve (drummer) left the band. Ouch.
After finding a hasty replacement (can't remember the guys name but I nearly decked him at a gig somewhere 'up north) we supported a newly reformed Selecter at Bedford College, then set about recording some new stuff when Steve rejoined.
First up was a session for XFM's Neil O'Brian that was aired in November 1993.
MP3 Chicane on Neil O'Brian's show XFM 1993

MP3 Chicane "Goldrush"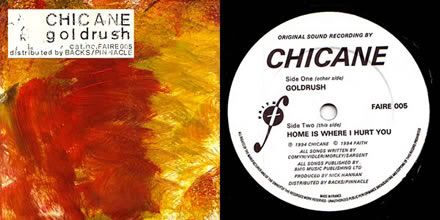 "Goldrush" b/w "Home Is Where I Hurt You" was released sometime in 1994 on 7" vinyl. The sleeves were all hand-painted by the band.....ahem ....and number stamped. I vaguely remember 1 copy was left unpainted. One for the collectors then.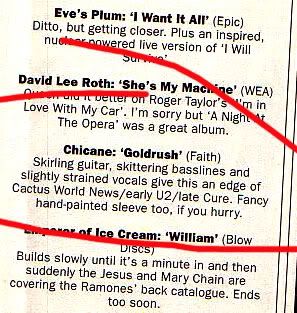 Time Out review for 'Goldrush'.

A video was made for the single (stills below) and it got some airplay on XFM and Radio 5 Live (before it went sport) but again the impact was minimal.
MP3 Chicane on Craig Ferguson show Radio 5 Live 1994




Things get a bit hazy for me around this time (again) and after another year or so of travelling backwards and forwards to Wandsworth to write / record new material (which was actually pretty decent), I left the band.

I'll add the rest of the story when I get the facts and figures right and also upload some more mp3's and press cuttings etc.........very soon.

Discography

World Of Music
'Stop Playing With My Heart' (appeared on the House Of Dolls EP free with Issue 24)

Chicane
'Inflammable EP'
Inflammable / When The Truth Hits Home / Asphalt Eyes (Faith Records 1991 FAIRE001)
'Strength Of The Sun EP'
Sunrising / Meet Michael / The Things We Do / From A Garden (Faith Records 1991 FAIRE002)
'Wanderlust' (single)
Wanderlust / Jealous Girl / Walking On Air / CD extra track Inflammable (Faith Records 1992 FAIRE003)
'Firebombs' (album)
Inflammable / Sunrising / Walking On Air / From A Garden / Meet Michael / Asphalt Eyes /
Wanderlust / When The Truth Hits Home / The Things We Do / Jealous Girl / Leper / I Think (Faith Records 1992 FAIRE004)
'Goldrush' (single)
Goldrush / Home Is Where I Hurt You (Faith Records 1994 FAIRE005)