Hotels, Empires and into The Dark(ness)...(CHICANE story part2)
So where were we? Sometime in 1994 I think.......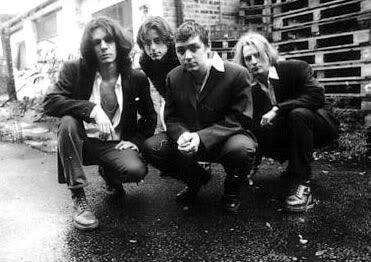 whaddaya fuckin' mean.....smile?


Our last single (as it turned out to be) had done a perfect impression of a brick attempting to swim, in terms of airplay etc. Time to re-think.

I'll leave you in the very capable hands of Alex Comyn:
"By the time of the release of the Goldrush single we'd been able to put together our own studio. Despite the joy of recording in such lovely studios as Blah Street, the cost was killing us, and we were able to set up our own multi track at Hurlingham Road (Putney) for about half the cost of releasing another single.
This allowed us to do two things, which in turn totally reshaped the path of the band.
Firstly, we ditched playing live altogether. It took up a lot of time, had yet to bring any real benefit in terms of growing our audience, and distracted us from writing any new material, which is what we really should have been focussing on.
Secondly, the luxury of our own recording gear freed us up from the usual Vocals/Guitar/Guitar/ Bass/Drums format we'd adhered to, giving us scope to experiment with different instruments, try out different recording techniques and in general have a bit of fun (for once).
The results were some of the best work we never released, and the final recording resulted in four tracks that we hoped would be the basis for a future single and album"

The 4 tracks in question were the following:



MP3

CHICANE - "Dream Chicane" unreleased 1994


MP3

CHICANE - "Walking On Water" unreleased 1994


MP3

CHICANE - "Follow Through" unreleased 1994


MP3

CHICANE - "Killing" unreleased 1994

Alex continues:
"We were really fired up over these tracks and thought we'd finally nailed that elusive mix of experimental sounds with a decent tune.
Our long suffering A&R guy from BMG came over for a listen, and duly trashed the lot, saying they'd sound great on an album, but there was no single.
I think that, given our difficult history, a series of poor managers, promises of record deals and a huge amount of effort by the band, this was the final straw.
A couple of additional tracks were started, but never finished, and we had a final gig at the Dublin Castle sometime in early 1994 that was pretty much a shambles, with no one watching and none of us caring."

So, Chicane (the name at least) was laid to rest...





Chicane 1994: Mark, Jon, Alex, Steve.



HOTEL:

A name change....and it still makes me shudder.
I think it made it's appearance on the master tapes and demo cassette sleeves but thank God it never materialised anywhere else.

Alex takes up the story again:
"Later in 1994 we moved the studio to the infamous DeMorgan Road in Wandsworth, the catalyst for many a wonderful happening, and things rapidly changed.
Both Steve and Mark had come up with some new material, none of which was working with me as singer.
I duly stood down vocal duties, concentrating on my guitar playing, and Paul O'Keefe was drafted in under the new, provisionally named, Hotel (unmh).
Initially, this all looked fine and dandy. Paul had an amazing voice, and tunes led the way. It was all pretty good, even though BMG were gracious with their time but not able to offer any more money or help."

We produced a fair amount of new tracks around this time. Quite claustrophobic in many ways because the band now consisted of 5 songwriters. A definite recipe for disaster...
Listening back to this stuff for the first time in 10 years, I think we were very obviously starting to wear our influences on our sleeves. Doors / John Barry / Bowie / Brian Wilson......Portishead?



MP3

HOTEL - "Poor Mans Voodoo" unreleased 1994


MP3

HOTEL - "Rotten" unreleased 1994


MP3

HOTEL - "Baby Jane" unreleased 1994

I seem to remember that we compiled these three tracks onto a demo cassette (yes, it was that long ago) and threw it in the direction of anyone who could catch.
Pretty sure we were called into Chrysalis Records head office to meet with some 'suit' who wanted to hear some stuff. Nothing came of it and nothing came of some interest from Madonnas management / label...or was I dreaming that?
Anyhow, I made a sharp exit from the band after laying down some guitar on a final track or two and bid the music biz a fond farewell......

Alex:
"I guess that's where things fell apart.
Paul's lyrics all started to sound the same, and the cheese factor became a little overbearing. We were also becoming very pop oriented, and it got to Mark before the rest of us. He bailed sometime in August 1995, followed soon after by Jon who couldn't stand to be in the same room as Paul.
Finding a replacement for both was nigh on impossible. A friend of Paul's was drafted in on guitar, Ben Etchells, but was mad and didn't really fit in. A new bass player lasted one rehearsal session, then left because he thought we were all over the shop.
Pretty soon after this, me and Steve sat down with Paul and called it quits. It simply wasn't working and that was that.
I played with another band for a few months, and then went on to manage a couple of bands, after which I went off on my own adventure with a regular job.
Jon got deeply involved in Scandinavian music and set up his own mini music corp.
Mark disappeared....
Meanwhile, Steve and Paul started to put together a new band"

EMPIRE

To be honest, this part of the story I've only just caught up on after meeting Alex and Steve recently.

Steve Sargent:
"Not too long after Hotel split, Paul O'Keeffe (now of Intervurt) gave me a call saying he had found a bassist,
Frank Poullian and wondered if Ben Etchells and I would like to start a new band.
I said OK and Empire was formed.
A few months later, Ben (now of Ben And The Pimps) left to join "Catch" and after quite a bit of persuading, Franks mate Dan Hawkins joined us on guitar.
A couple of months later, Dans' brother Justin finished his college course and joined us on keyboards and backing vocals.
Empire gigged and demo'd for about a year or so but "musical differences" lead to a meeting at the White Horse pub in Parsons Green where it was decided we should part company with Paul, the singer.
We spent the next, oh I dunno, 12 months or so auditioning dozens of singers (including Justin!) but with no success. Eventually, the band effective stopped functioning as rehearsal money dried up.
Dan was off doing session work and touring with other artists and Frank was working with his brother in Venezuela. That's when I parted company and the rest, as they say, is history…"

.....history being that Frank, Dan and Justin formed The Darkness after Justin discovered he had a voice at a karaoke night in a local pub back in Lowestoft.



So that's about the size of it.
Heres a few more Chicane tracks that I recently got my hands on.
Both recorded live at the studios in BBC Radio Leeds....nice and raw.


MP3
CHICANE - "Cut" live session for BBC Leeds 1994
MP3
CHICANE - "Elevator" live session for BBC Leeds 1994


The b-side of the 'Goldrush' single:


MP3
CHICANE - "Home Is Where I Hurt You" 1994
.......and a few more interviews / reviews:

Lime Lizard magazine 1992


Siren magazine 1992