Toy Soldiers and a Headful of Whine...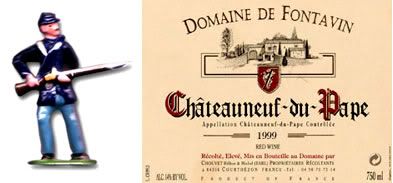 ...red whine...
Yes, I'm suffering with a deadly bout of 'having had too much of a good night' feeling this morning and am dearly tempted to climb back into bed....uuurrggghh....
So who said 'you should never meet your heroes'?
I'm wracking my brains trying to remember who told me that, or where I read it. For years I've stuck by it and when opportunities have arisen I've politely declined...until yesterday.
Spent a most enjoyable afternoon / evening over at Andy Partridge's house in (snowy) Swindon. After a brisk train trip from Hertfordshire to Wiltshire via er....London (yes, there is logic), I arrived at his place amidst a seasonal flurry...thus giving a slightly surreal feel to proceedings.
After speaking on the phone a couple of times since November last year, we finally arranged to hook up for an afternoon in his studio shed and an evening in the chinese..great stuff! I played him some XTC remix-mash demo's that have been brewing on my hardrive in recent months and he played me a gorgeous selection of completed / in-progress tunes that he's been putting together of late...and very excellent they are too. The seeds of the mutal admiration for each others 'art' duly sewn.
We listened to and discussed all things Beatles, Aerosmith, Beefheart, Bubblegum, Psychedelia, Ape, Sky Saxon's vocal gymnastics, er....Virgin / EMI and headed out into the cold to indulge in some chinese food.
Delicious! We arrived to the strains of what sounded like 'celtic moods' (very surreal for an oriental joint).

Andy introduced me to the pleasures of Chateauneuf du Pape, an exquisite red that I must admit went down exceedingly well and so the conversation turned to manually recording ones voice onto the play out grooves of vinyl using a needle and paper cone, receeding hairlines and the feather pillow / man-made fibre / firm mattress scenario that is giving me and my wife back trouble....
Back to the house for an inspired DJ set from MrP including some Can, Equals, early Bee Gees, Syd-era Floyd and the genius that is the Fab Fours 'Beatles Christmas Songs', (which has to be heard to be believed).
Just before I left for the train back to wonderful Watford, Andy played the part of the 'Shopkeeper' to my 'Mr Ben' and gave me one of his hand-crafted toy soldiers (see pic)...


Fabulous....