Art School Science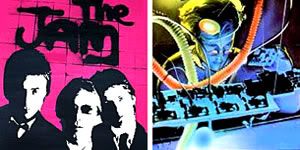 Was recently asked to supply some music for an upcoming US tv ad campagin based around a new fashion range in a 'back to school' vein, called 'Fashion Chemistry'.
The initial concept was for a 'mash' / the ad was to suggest that you could 'mix and match' styles etc....

Anyhow, Thomas Dolby's track 'She Blinded Me With Science' was mentioned as a candidate for a combo or makeover and I was encouraged to try some other ideas in the early stages.

So, here are 2 versions that were eventually passed on but I thought you might like to hear:


Black Jam
uses The Jam's "Art School" and elements from Black Sheeps "The Choice Is Yours" plus various breaks / beats etc


Science
is a reworking of Thomas Dolby's "She Blinded Me With Science" plus a pinch of Public Enemy's "You're Gonna Get Yours" and other breaks.