Handsome Devils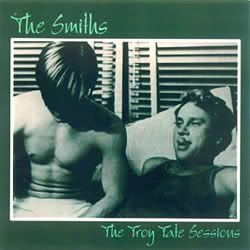 I loved this band with a passion. Still do.
I'll be honest, I was a more a fan of Johnny when I first encountered them back in 1983. Rickenbacker / fringe and stripey jumper (funny how some things don't change).
I must have spent my entire life in the sixth form, bunking off and watching my vhs of them live at the Assembley Rooms, Derby, taped from Whistle Test or something...

But yesterday I had the pleasure of aquiring the 'aborted' Troy Tate sessions for what would have been their first album 'The Hand That Rocks The Cradle'...and as much as I embraced 'The Smiths' album like a lifeline......I just feel that these recordings are waaayyyyy better.
My fave was 'These Things Take Time' (ended up being the b-side of What Difference Does It Make) and it's great to hear it in the context of what is a good line-up of tracks:
01 - Reel Around The Fountain / 02 - You've Got Everything Now / 03 - Miserable Lie
04 - These Things Take Time / 05 - Wonderful Woman / 06 - Handsome Devil
07 - Suffer Little Children / 08 - Pretty Girls Make Graves / 09 - Hand In Glove
10 - What Difference Does It Make? / 11 - I Don't Owe You Anything ///
'Jeane' / 'Accept Yourself' and also 'The Hand That Rocks The Cradle' were recorded during these sessions too.

Rougher, for sure, edgier, of course but completely compelling after not hearing their early stuff for a good few years now...